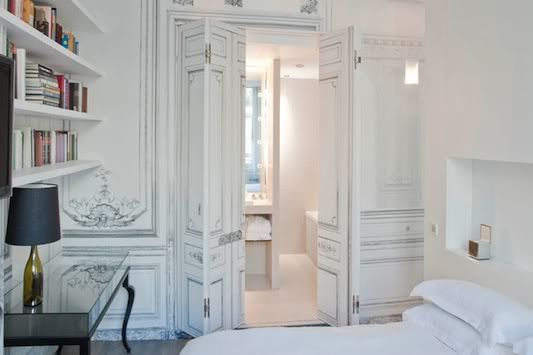 "The first thing you read when you view La Maison des Centraliens website is ''the first hotel which will be decorated by Martin Margiela''. For most people in the know, that would make the hotel special enough - and while that is indeed quite special, it is the rich history of this townhouse, its Haussmann style architecture and the complete and utter Parisian dream it represents that make La Maison des Centraliens so much more.

La Maison des Centraliens is a hidden treasure in the 8th arrondissement. Located in the centre of ''The Golden Triangle'' (where the Champs-Elysées, Avenue Montaigne, the Grand Palais and the Place de la Concorde meet), the townhouse was first built in 1864 for royalty. It was later, in between the years of 1913 and 1989, that the private home underwent the extensions and renovations that would allow for it to become a hotel – a luxury hotel to be exact.

Out of respect for this building's precious history, the design of the hotel had to be handled with class and elegance whilst representing the avant-garde and chic fashion that Paris is known for. A homage to all things Parisian."

EPIC.
More pictures
here.
Source and photos:
Yatzer